When Winter comes, can Sarson ka Saag be far behind! The ultimate greens dish, a classic from Punjab in Northern India. Mustard greens are cooked with spinach and bhatua saag and traditionally served with hot makki rotis, though they are great with phulkas or tandoori roti. Actually I like mine with hot rice and rasam!
Mustard greens are an ancient crop, grown in the Himalayan and sub Himalayan regions of the Indian Sub -continent, and have been known to have been cultivated  for more than 5,000 years. They are a popular ingredient in a wide range of cuisines, from Asian (including Japanese, Chinese Nepalese and Indian) to Southern American. They are generally available during the cold season, from November to March. In India, the Sarson ka Saag, a curry, is the most popular.
I have made sarson ka saag both with the regular Indian greens, and with the peppery pungent and delicious Mizuna or japanese mustard (Brassica rapa). Actually here in Bangalore, it is easier for me to source zero pesticide fresh Japanese mustard greens from First Agro Farms, rather than the  sarson ka saag from Northern India, which is not easily available.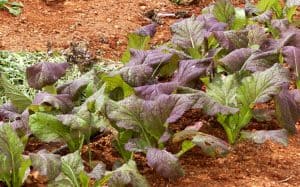 Health and Nutrition:
Mustard greens, (Botanical name Brassica juncea) are a veritable powerhouse of nutrients and cancer fighting properties. Low in calorific value (about 27 cals for every 100 gms of raw leaves), they are rich in dietary fibre as well as in phytonutrients, vitamins and minerals. The dietary fibre helps control cholesterol. The leaves have been known to have a high content of vitamin K which is an anti-inflammatory nutrient, and Scientists consider that Vitamin K  helps in bone mass building as well as in reducing neuro damage in the brain for patients suffering from Alzheimer's.
The greens are also a great source for other vitamins such as vitamin A (beta-carotene), Vitamins C, E, B6, B2 as well as minerals, copper, calcium, magnesium, phosphorous, iron, and potassium, magnesium, niacin, pantothenic acid, folate as well as protein.
Cancer fighting properties:
Research suggests that Mustard greens are an excellent source of anti-oxidant like flavonoids, indoles, sulforaphane, carotenes, lutein and zea-xanthin. Nutrition-and-you.com website states that Mustard greens contain Indoles, mainly di-indolyl-methane (DIM) and sulforaphane which have proven benefits against prostate, breast, colon and ovarian cancers by virtue of their cancer-cell growth inhibition, cytotoxic effects on cancer cells.
The key phytonutrients in mustard greens or sarson ka saag, are said to give antioxidant support which can help lower the risk of oxidative stress in body cells, thereby reducing  cell damage and bringing down a risk factor in development of most cancer types.
Mustard greens helps the body to detox through its antioxidants nutrients, sulfur-containing nutrients and phytonutrients. Toxins building up in the body can increase the risk of cells turning cancerous, and hence consumption of these greens  can help to counter the ill effects of toxins.
The other ingredients all contribute to the nutritional values of this tasty curry.
Spinach is again, like mustard greens, a good source of fiber as well as magnesium, which is needed for healthy nerves and muscles.
Ginger, garlic and onions, which are the remaining ingredients, have anti-inflammatory benefits and are high in antioxidants.
Print Recipe
Sarsoon Ka Saag - Flavourful Mustard Greens
Yum
The ultimate greens dish. Mustard greens with spinach and pieces of tomato to give that dashing touch of red. Traditionally served with hot makki rotis, though they are great with phulkas or tandoori roti. Actually I like mine with hot rice and rasam!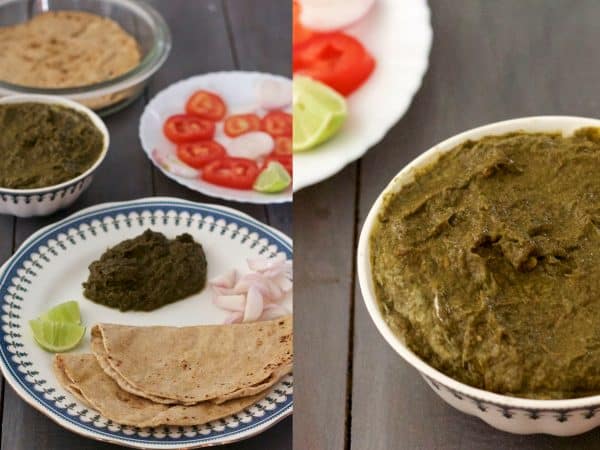 | | |
| --- | --- |
| | |
Rinse the sarson ka saag well, in cold running water, to get rid of every last bit of grit. Chop the saag roughly, include the tender stalk, and discard tough stalk, yellowing or spotted leaves.

Let the washed greens stand for 5-10 mins in a large colander to drain, to enhance its nutrient properties.

Meanwhile prepare the other ingredients as required.

Heat the pan and add a tablespoon of oil. Saute the onions till translucent.

Add the sliced washed greens and saute. Cover the dish and let the greens cook for 7-10 minutes, stirring well and frequently.

The saag (greens) will reduce to about a fourth of its original volume. Transfer to another dish to cool.

Puree in a food processor or mixie without adding water or using very minimum water.

Heat the pan again, add 2 teaspoons of oil.

Burst the methi seeds in the oil and then add jeera. Scald the chillies in the hot oil. ( I usually let them discolour so that they are easy to identify and nobody bites into them by mistake)

Add the garlic and saute, and then add ginger. Add turmeric and chilli powder. Sauté for one minute. I prefer Kashmiri chilli powder as it gives colour and flavour without being too spicy.

Add and saute the capsicum. Capsicum is not part of the traditional recipe, but I like to add it for the contrasting texture to the soft saag.

Add the tomatoes, sauté for a minute.

Sauté, stirring frequently, for 5 minutes on a low flame. Add salt to taste. Cover for 1 minute. The saag may catch at the bottom and scald if covered for too long .

Transfer to a serving dish. Garnish with cream (if desired) and serve hot with roti and white butter, unless you want to skip the butter and reduce calories.
Healthy Way To Prepare and Cook Sarson ka Saag:
Select the shoots with crisp, dark green leaves when buying the greens. Before cooking, discard any that are wilted or turning yellow or are spotted.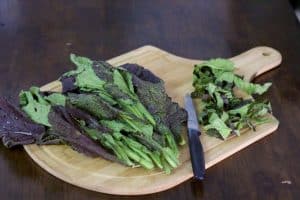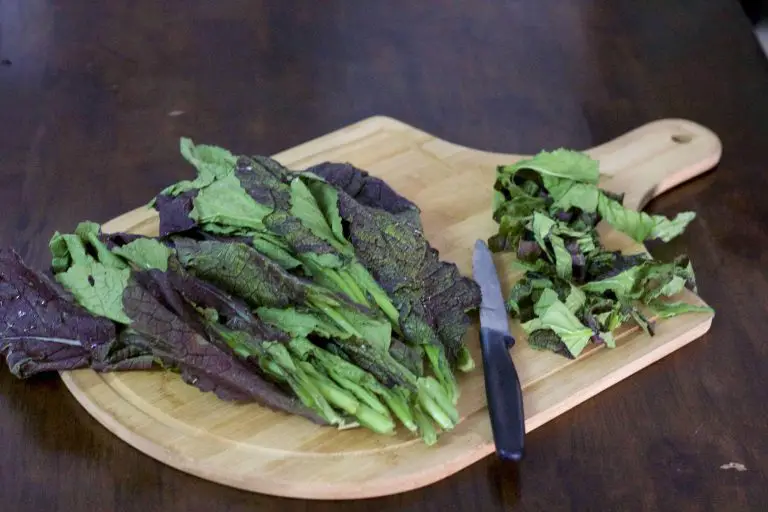 The leaves are best used within a day or two and stored dry in the fridge in an airtight bag till required, as they easily succumb and wilt if left at room temperatures.
Sautéing or Steaming the leaves could help retain the flavours and nutrients much better than boiling. The best way to cook the sarson ka saag is to pick the young leaves and the tenderest shoots, rinse well in cold running water and drain, and then slice into even sized small pieces. Cut away any thick shoots. Let the leaves stand for 5-10 minutes after draining, and then sauté with a minimum amount of oil on a low flame.