Bhagwaan Ke Pakwaan
', that set me on the path to making this really tasty curry, an authentic and traditional Odia Vegetable Besara: mixed vegetables cooked in Orissa cuisine's trademark
mustard paste
.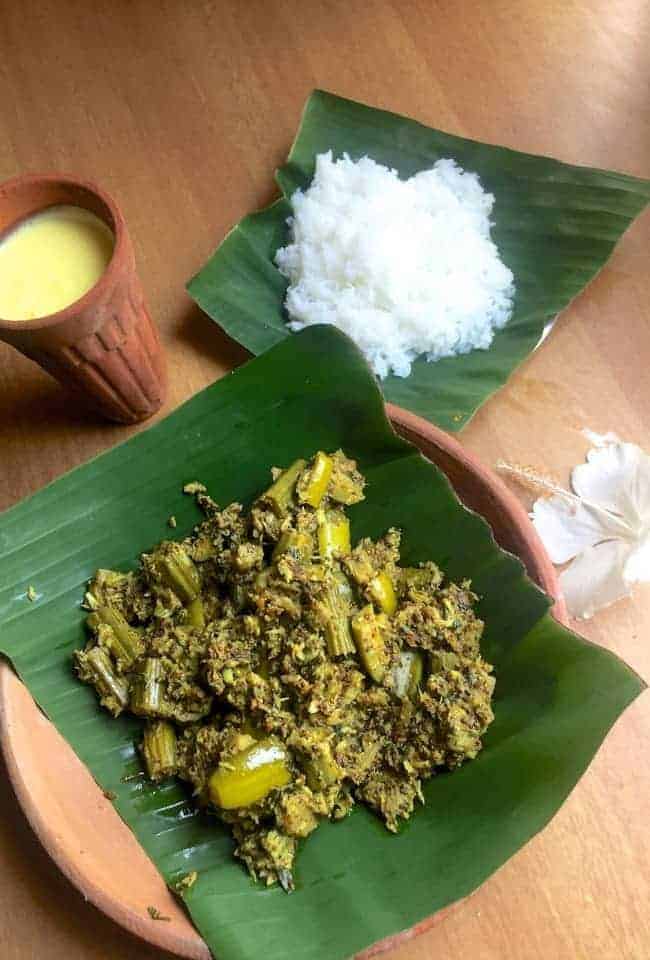 This month, the theme for the Shhh Cooking Secretly Challenge Group is 'Odisha Cusine'. While browsing my little collection of Indian cookbooks including Laxmi Parida's Purba: Feasts from the East, I came across several recipes which looked easy to make and would surely taste delicious with the spices such as panch phutana traditionally used in Odia cuisine. However, none of them really caught my imagination. I wanted to showcase the vast cuisine of this Eastern Indian State, with a vegetarian recipe using some of the processes and ingredients which best represented the cuisine. There being a wide overlap with Bengali vegetarian dishes, the one I selected had to stand out and be clearly identifiable with Odisha.
About Bhagwaan Ke Pakwaan
Idly turning over the pages of Bhagwaan ke Pakwaan - Food of the Gods, by Varud Gupta and Devang Singh, I finally found just what I wanted. This food cum travel book was gifted to me by my friend Sachin Arya. Sachin is himself a foodie, and knows how much I am obsessed with food preparation.
The book has chronicled the visit of the authors to 5 places in India, and their take on the culture, history, folk lore and religious practices in these places, with a focus on the prasad or food offered to the Gods (not forgetting tribal deities). The photographs feel very real, you could almost be in the kitchens where these feasts are being prepared!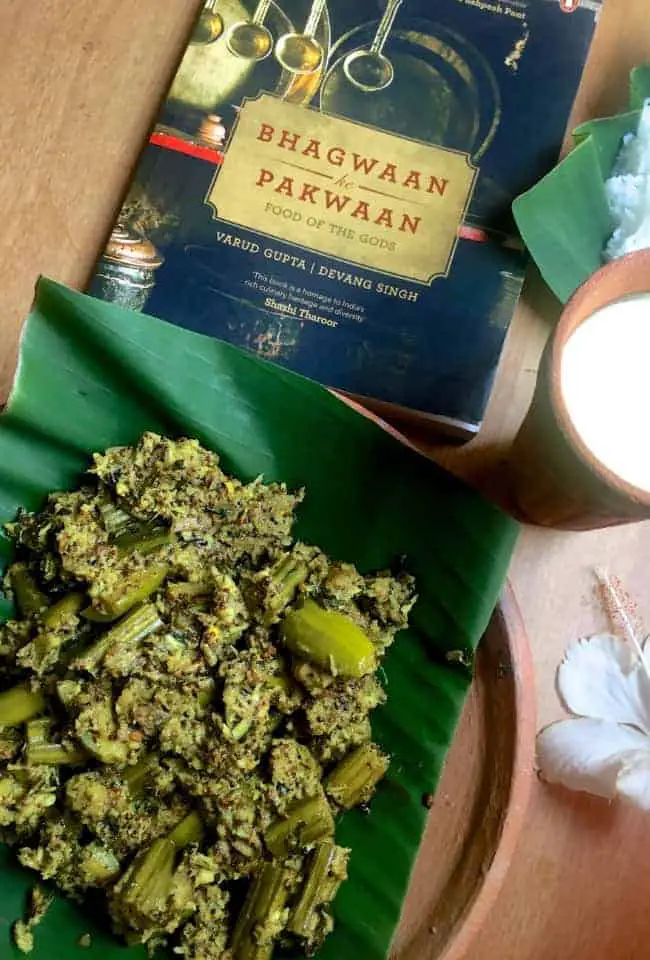 What is Besara/ Besar?
The recipe below is adapted from the one for Besar. Besar is a mixed vegetable curry cooked in mustard paste. It forms one of the 56 dishes offered as Mahaprasad or Chhappan Bhog, to the main deity of the Puri Shree Jagannath Temple in Odisha. The authors of the book had actually been into the Temple kitchens, observed and described in detail the process of making the Besar.
A little more, about the Besara. The cookbook Purba: Feasts from the East , by Laxmi Parida, says that, "... in Oriya cooking ... mustard oil is often stirred in after the dish has been cooked, to impart the flavour of the mustard oil. Besara is a class of dishes that uses this technique. Sometimes, the use of mustard seeds in the sauce is enough to classify it as besara. Almost any vegetable can be made in this style -fish goes very well with this sauce."
The link below is to a vendor to whom PepperOnPizza.com is affiliated. If you click and purchase through the link, I will earn a small commission, at no additional cost to you, the user. I only promote brands and products that I trust and use.
Making a Traditional Odia Vegetable Besara
The ingredients for the mixed Vegetable Besara are those usually found in Indian kitchens and include seasonally available vegetables. As this recipe follows that of the Puri temple, authenticity is maintained by selecting only desi vegetables - raw green banana, colocasia (arbi), pumpkin, pointed gourd (parwal), yam, drumstick etc. You can use some or all of these as you prefer. Cauliflower, capsicum, potato,  tomato, raw papaya and other imports, please excuse! On a recent visit to the Jagannath Temple, I learnt that drumstick/ moringa pods are not actually used in any of the food preparations for the deity, which I had not realised when I prepared this curry. I would omit it the next time I make it.
For the same reason of authenticity, the vegetables are cooked in ghee, and onion and garlic are not added. The mustard paste gives its special Eastern Indian flavour, while no chilies and chili powder are included. The curry is tempered with panch phoron/ panch phutana, the 5 spice mix which is a popular tempering in curries from Odia and Bengali cuisine. Fried badi/ nadi, the little black gram lentil fritters, add a bit of crunch to the dish.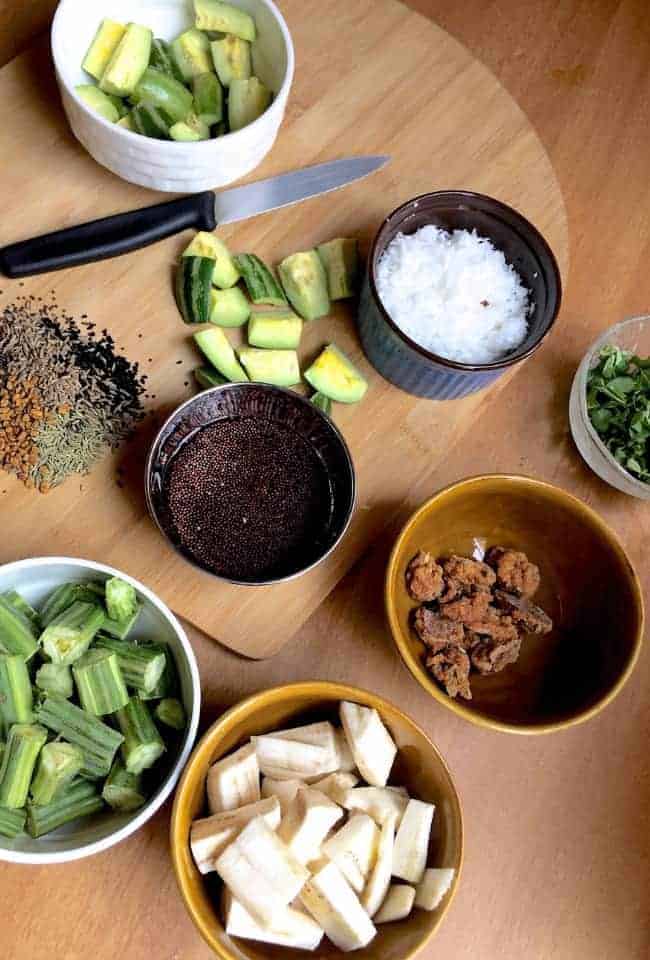 My partner in the Shhh Secretly Cooking Challenge this month, is the multi faceted Seema Doriasamy Iyer. We discussed possible dishes and ingredients at length, and decided on traditional Indian ingredients commonly used in Odiya cusine. Seema suggested Parwal (Pointed Gourd) and Haldi (Turmeric Powder), both of which fit nicely into the Traditional Odia Vegetable Besara.
I don't know about you, but I like Parwal (or Potol/ Potala) only as the Bharwan Parwal or spice stuffed sauteed pointed gourd. I make this from this recipe on this blog, stuffing the parwal with a special homemade spice mix from my mother's recipe. The traditional Aloo Parwal Sabzi, with slices of potato and parwal sauteed in garam masala, turmeric and curry powder is not a great favourite and I tend to eat the potato slices and ignore the gourd.
The Besar I prepared for this post though, was full of flavour. The vegetables were cooked through but with just a bit of a bite, not soggy or overdone as would have happened if I had used a pressure cooker or instant pot.
Mahaprasad At Puri Shree Jagannath Temple
Reading up and researching for this post on the traditional Odia vegetable besara led me to vivid descriptions of the Chhappan Bhog or 56 course Mahaprasad offered to the deities every day at the Puri Jagannath Temple and distributed to the throngs of worshippers. Much has been written elsewhere about the huge kitchens where food is prepared in large clay pots and can cater to a lakh of devotees every day. The clay pots are stacked one upon the other (9 on one firewood oven) and the food is slow-cooked, steamed.
I'm sharing with you an interesting (if lengthy) article on the legends and myths surrounding the construction of the Lord Jagannath Temple, here and another here on the Mahaprasad, which you may also enjoy going through. I have been to Puri and the Temple many years ago, but after reading all this, I want to really explore it in the light of its history and architecture, pay my respects to the deities as well as taste for myself, the Mahaprasad at the Ananda Bazaar where it is available for devotees and visitors.
As I mentioned earlier, my partner for the Odisha theme in Shhh Cooking Secretly Challenge FB Group is Seema Doriswamy Sriram, who blogs at Mildly Indian. I love her blog with recipes from India's Malabar region, other Indian recipes and those from different  cuisines which she has made during her travels to various parts of the world. I hope you will spare a few minutes to visit it. For Seema, I suggested lentils and mustard, and she used these in a traditional Odia Dalma with drumsticks. She said her family really enjoyed it in the cold climate that she presently lives in. The Dalma perfectly matches the Vegetable Besara I have made, and here is Seema's recipe for the same: Winter Perfect Lentil Stew, Dalma.
This post is sent to the event Shhh Cooking Secretly Challenge for the theme: Odissa Cuisine for May 2019.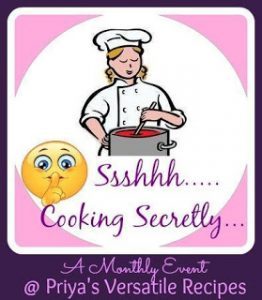 Other Traditional recipes you may like on this Blog:
Odia Cabbage Potato Peas Curry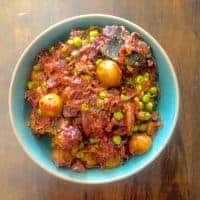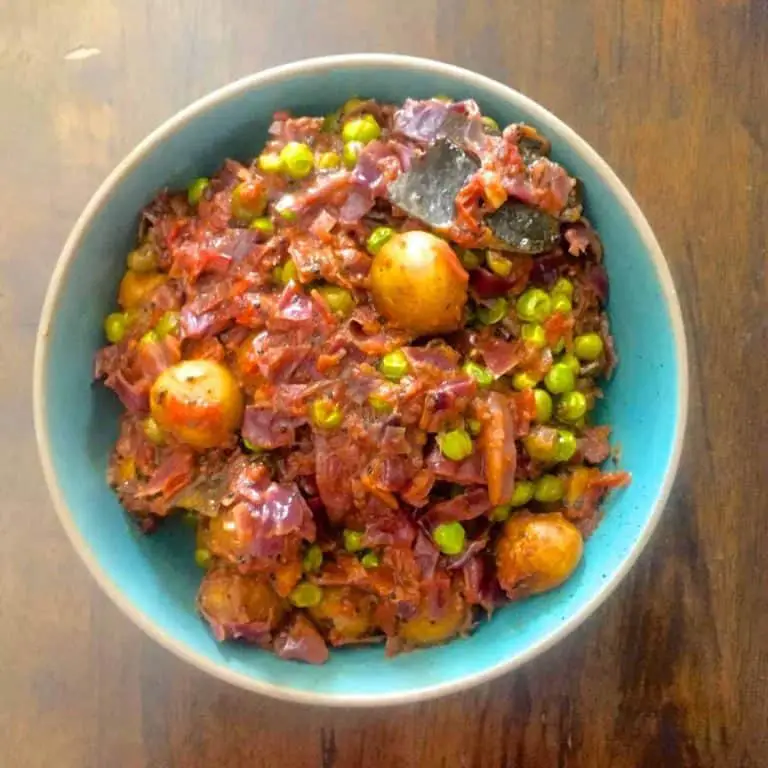 Panch Phoron Kaddu Sabzi/ Spiced Pumpkin Curry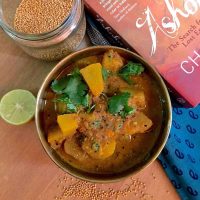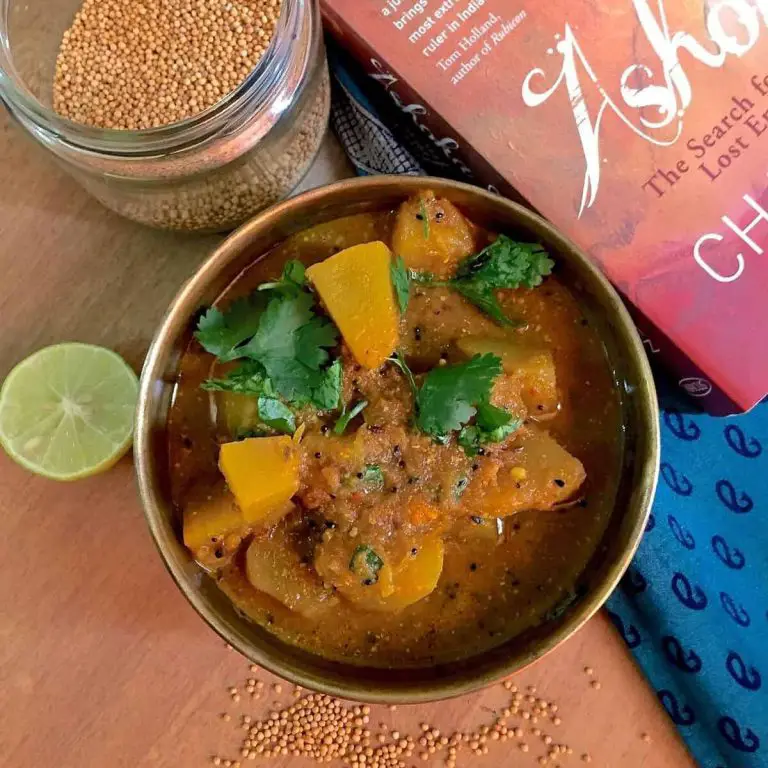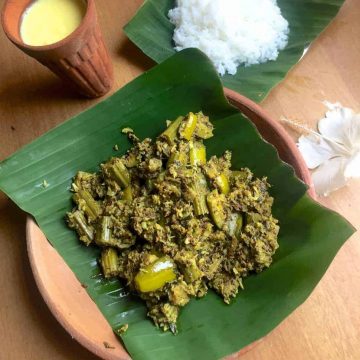 Traditional Odia Vegetable Besara - Curry in Mustard Paste
Traditional Odia Vegetable Besara, vegetables cooked in mustard paste and panch phoron. With desi vegetables like Pumpkin, raw banana, parwal, this follows a recipe from the kitchens of the Shree Jagannath Temple, Puri. Vegan, Gluten free
Ingredients  
For Urad Dal Badi
2

tablespoons or 10 small pieces

urad dal badi

from ½ cup soaked urad dal/ black lentils - click the ingredient name in previous column, for link to recilpe for badi.

2

tablespoons

ghee

or sunflower oil
For Panch Phutana or Panch Phoron 5 Spice mix
1

teaspoon

black mustard seeds

rai seeds

1

teaspoon

cumin seeds

jeera seeds

½

teaspoon

fennel seeds

saunf seeds

½

teaspoon

fenugreek seeds

methi seeds

¼

teaspoon

kalonji / nigella Seeds

kalonji/ onion seeds
For Odia Vegetable Besara
2

tablespoons

ghee

I used the leftover ghee after frying Badi, and topped it up. The traditional recipe is with ghee, but if you dont prefer this, use a mild vegetable oil such as sunflower oil

1

tablespoon

coriander powder

dhania powder

1

teaspoon

ground black pepper

1

cup

green banana

about 100 gms - 2 cm lengths (or use Yam or Colocasia/ arbi)

1

cup

pointed gourd/ parwal/ potola

about 100 gms - 2 cm lengths

1

cup

drumstick / moringa pods

about 100 gms - 2 cm lengths

½

cup

moringa leaves

about 10 gms (or use methi/ fenugreek leaves)

1

tablespoon

mustard paste

from list above

1

teaspoon

turmeric powder/ haldi

1

tablespoon

ginger paste

1

tablespoon

powdered jaggery

1.5

cups

water

1

teaspoon

salt

or to taste

2

tablespoons

urad dal badi

or 10 small pieces (from list above)

½

cup

grated fresh coconut

½

tablespoon

ghee
Instructions 
Make Mustard Paste
Soak the mustard in 1 tablespoon water for 15 minutes. Drain and grind the mustard into a paste, adding upto 1 more tablespoon of water, to make a thick paste
Fry the Urad Dal Badi
Heat Ghee (or other oil as preferred. The temple recipe requires Ghee for frying. Alternatively use a mild vegetable oil such as sunflower oil. Though mustard oil is extensively used in Odia cooking, this recipe already has both mustard paste and mustard seeds, so mustard oil is not recommended).

Add the badi in batches. Fry over medium heat for 2-3 minutes, till they turn brown, turning them over every now and then so that both sides are fried. Drain excess ghee using a slotted ladle, and remove the fried badi. (I used the leftover ghee after frying, for the rest of the cooking process as below).

Place the urad dal badi on a small colander lined with kitchen paper, to drain. Set aside till required.
Preparation
Wash, drain and dry the vegetables. Peel the raw banana and slice it into 2 cm long slices. As it will begin to blacken, immediately place the slices in a bowl of water. Drumstick may be sliced into 2 cm lengths, after removing any fibre that juts out at the sides. However don't peel the drumsticks. Cut the ends off the parwal and slice into 2 cm lengths. Keeping all the vegetables to a uniform thickness and length will help them cook evenly.

Wipe away any water clinging to the vegetable slices so that they are dry when added to the cookpot

Grate fresh coconut. Peel and grind ginger into paste (if using fresh ginger). Separately powder each type of spice that is required in powdered form, such as coriander and black pepper. Shred the moringa leaves (or methi leaves).
Make Odia Vegetable Besara
Heat the ghee. ( I used the leftover ghee after frying the urad dal badi, and topped it up a little to make up 2 tablespoons.) Once hot, turn the stove heat to low, add the panch phoron mix all together and allow the seeds to burst (about 30 seconds)

Add coriander powder and black pepper powder, stir and saute for 5 seconds

Add sliced vegetables and stir well. Stirring and mixing the spices into the vegetables is important, otherwise the spices will catch and char at the bottom of the pan. Cook the vegetables for about 3 minutes, stirring occasionally. If pumpkin is used, you may see water being let out from the vegetables into the pan after about 3 minutes.

Add the mustard paste, stir it well into the vegetables. I used only 1 tablespoon of the paste, but you may like to add more depending on taste

Add the moringa leaves (or methi leaves)

Add ginger paste, turmeric and jaggery powder, stir them in.

Add one and half cups of water. Add half the salt in the ingredients list. You can add more if required, towards the end.

Bring the water to a boil, then reduce the heat to low and allow the curry to simmer, covered for about 15 - 20 minutes, until there is just enough water left in the pan to prevent the curry becoming totally dry, and vegetables are tender and cooked.

Taste for salt and add a little more if required as per your taste. I found 1 teaspoon of salt adequate for this volume of curry.

Add the urad badi that you had fried and kept ready earlier.

Add the fresh coconut.

Add a little ghee from the sides of the pan, so that it melts by the time it reaches the vegetables. Allow to cook for 2 minutes, stirring frequently so that the vegetables do not catch at the bottom of the pan.

Transfer to a serving dish and serve hot with rice, Dalma and a dry sabzi.
Notes
Link to the recipe for making urad dal badi (fritters out of black lentils) for use in the above recipe:    Urad Dal Badi
Nutrition